<% Response.Write Session("strSizeColor") %>

Current Warning to fishermen:
GIANT TROUT THREATEN FISHERMEN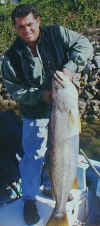 Shown here is Carlos Escobar from Palacios TX, with the juvenile spec he caught near Chinquapin. Carlos was trolling a spray painted piece of broom handle with hooks attached when, as Carlos said, " all hell broke loose!" The lure was tied with a piece of well rope to a cleat on the back of the boat. After landing this fish, a second pass resulted in hooking up on an even larger fish, but that fish tore the cleat out of the boat and disappeared with lure, rope and cleat.
The fish was rushed to TPWD headquarters in Bay City, were it was found that this trout was no more than 1 year old. Found in it's stomach were not only the remains of many kinds of fish, but also the bones of 2 ducks and a small dog.
Capt. Don Lawless of Texas DPS recently stated that there have been a number of reports of "giant trout" sightings. These were dismissed as hoaxes until Carlos brought in his monster. Capt. Lawless warns fishermen that a real threat exists and recommends waders stay out of the water. "Some of the callers have described trout not in inches but in feet! One guy said a trout took the motor off the back of his boat. I would stay the hell out of the water until this crisis is resolved" he stated.
Bayfishers reporters are working to bring you more information and photos of theses monsters, so check back soon!
ROOTUS INTRUDIS
<% Response.Write Session("strSizeColor") %>Yes, our worst fear is confirmed. The exceptionally warm winter and the lack of rain has led to the re-appearance of the dread bay bacteria <% Response.Write Session("strSizeColor1") %>"ROOTUS INTRUDIS".
<% Response.Write Session("strSizeColor") %>At East Matagorda Bay we have been blessed with the absence of municipal and industrial effluents. We have acres of live edible oysters and there's even some grass left (that the skinny water idiots haven't plowed up). This thriving bay system has a down side------it attracts pathogens like "ROOTUS INTRUDIS". TPW advises all male wade fisherman to take precautions against this invasive micro-organism. Since summer temperatures make waders uncomfortable, TPW suggests that condoms be used to prevent the bacteria from migrating into the urinary track. More later on how to recognize symptoms and advanced cases.
If you don't keep protection with you the marinas at Sargent and Matagorda should be well stocked -------be sure to inquire!