The South Texas Fishing Site!
This site is dedicated to fishing (and other things) in South Texas. The Coastal Bend offers some of the best fishing anywhere. This website is designed to help others enjoy some of the things I love to do. Thanks for stopping by.
See you on the water! - Todd

REEL CLEANING SERVICE! - Tired of waiting weeks to get your reels serviced? I am now offering a full service reel cleaning and repair service. Click here for details.

I have added a page for guest photos. Send me a picture and a story and I will post it for you! (Updated 6-1-10)

I have added a guestbook - please take a second to leave a comment. It's on the left at the bottom of the navigation bar. Thanks!
Latest Posts
June 31, 2011
I am finding it hard to believe that I have not fished yet this year. With work, and a howling wind most days, fishing has been low in my list of priorities. Well I corrected that this past week on Thursday and Friday. I charged the boat batteries and fueled up for a Thursday morning outing. Me and the young son headed out to Marker 37 Marina and launched about 10:00 in the morning. We ran down to Bird Island and headed back north into lower Nighthawk Bay. We caught a few small trout and some Gaftop but no keepers. We decided to head further south and work some of the grass flats and potholes on the east shoreline. Well we found the trout and picked up a few nice ones. We kept enough to eat and released the rest.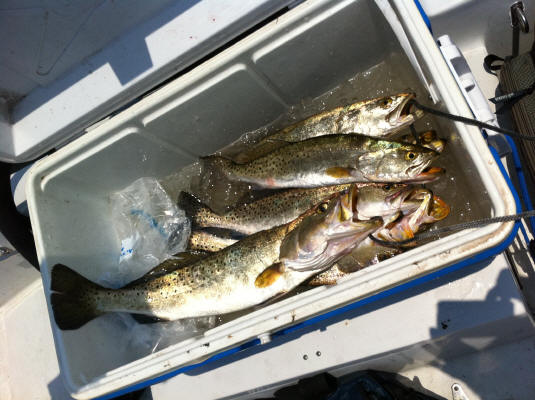 Friday the weather was still pretty nice so I went back to the same place. The wind was a lot stronger and fishing was difficult. I caught a few small trout and decided to move to a more sheltered spot. I moved back north into nighthhawk in about 2 feet of water. On the first cast I hooked up with a beautiful 28" redfish.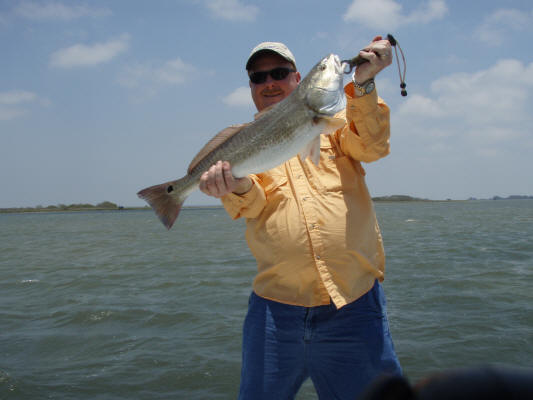 I photographed and released this fish. This continued for the next few hours. I caught reds until I was wore out. I released all I caught as I had plenty of fish from the day before. Over the next few days I made fish tacos, gumbo, and Florida style ceviche. It was a great trip after such a dry spell. I can't wait until the next time!
Avery even got in some swim time!
January 5, 2011
Wow where did the year go! My son Avery and I got out December 23rd. It was a beautiful day on the redneck Riviera. Low wind and the fish cooperated. Son landed 7 trout to my 2 (and 1 flounder). If the weather holds we are planning a trip this weekend.
June 18 - I am switching over to a new software platform. Please "bear" with me while I get the bugs worked out! I should have everything converted in the next few weeks.
May 23 - I can't believe how long its been since I posted here! Well that's fixing to change. Fishing is about to really heat up on the South Texas coast. I have my boat over at Texas Tops.
They are installing a top for me. I will post a review of their services after they finish.
Went to the SEA banquet last week and had a reel good time. They had some great soft shell crab and chicken fried quail.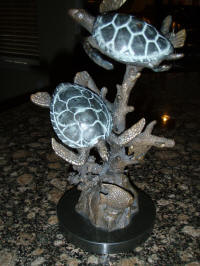 I picked up this sculpture at the silent auction. Very pretty piece in bronze. Of course the wife loved it. She is a turtle fan. We also picked up the "Skinny Water Mansfield" trip in the live auction. It's for 6 people, 2 nights - Update coming soon on that one!
Fished in the ISA South Chapter's charity tournament on April 24th. Thanks to Marcus McDonald with Wika for sponsoring Michael Stephens and me. Wind was really high and from the wrong direction. We caught a few trout but nothing to write home to mom about.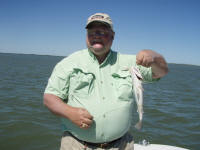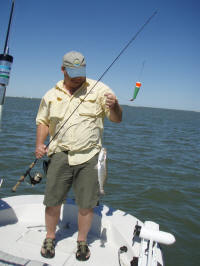 One of the highlights of the day was stopping at the Parrot Island Grill.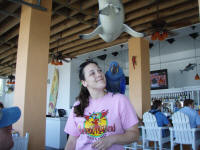 They have great food, cold drinks, and real parrots. You can pull your boat right up to their pier and head on inside. Nice place to stop and cool off.
December 31 - I finally got a day off and got the boat on the water. Stopped at Jane's on the L-head for a pint of live shrimp and headed for the ramp. I was about to back into the water when I noticed a plug missing on the stern. Checked everywhere in the boat and truck and no luck. I called a friend and begged a favor and shortly there after I had a new plug and 3 spares. Thanks Judy you saved the day. Well got launched and first thing the Lowrance Sonar/GPS will not power on. I later found out it was full of water. Now I usually don't run submerged, and this unit is rated IPX-7 (submersible to 1 meter), so there is no reason for that to happen. I will cover the warranty experience with Navico as soon as I hear back from them on my review page.

It was a bit foggy on the bay front. I had not seen this before in the afternoon.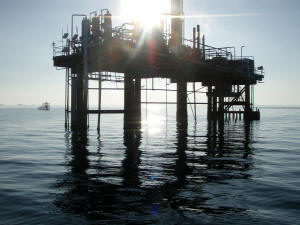 Started out at one of the platforms in the mid bay.
Started out with a nice sheephead that measured 24". Mixed in were a few trout to 18". Notice the Berkley Gulp - As usual the trout were more than happy to eat artificial.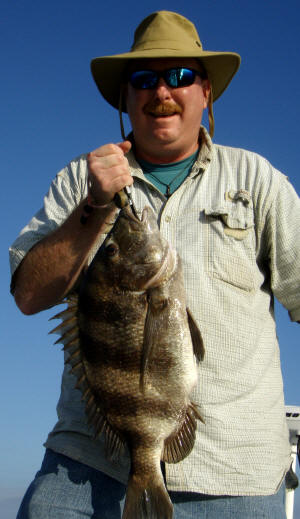 The next on was even bigger.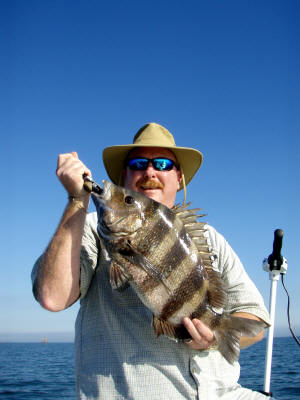 I ended up with 5 solid sheepheads and 2 18" trout (not counting the 4 throwbacks). All where released to catch another day.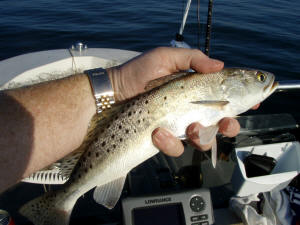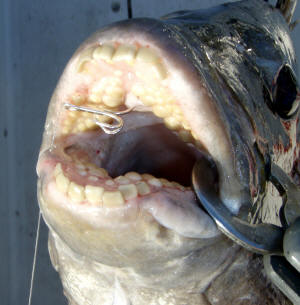 These guys are hard on tackle!
September 25 - Well dove season opened last weekend and I had an opportunity to hunt with friend Buddy Toepfer http://www.gutpile.net.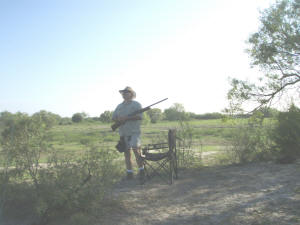 Seems his son had eye surgery and could not shoot for a few weeks. I was grateful for the invite. My 9 year old son was also invited. This is his first hunt.
The day opened with a beautiful sunrise, and coyotes howling and yipping.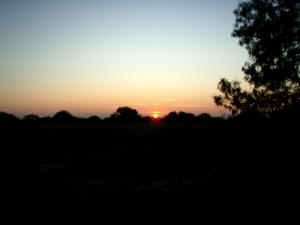 Me and Avery got to spend some good quality time together. He was shooting a borrowed bolt action .410. We saw lots of pin tails and a big hog crossed the pasture in front of us. The area we hunted was on about 350 acres near Sandia. A very beautiful place.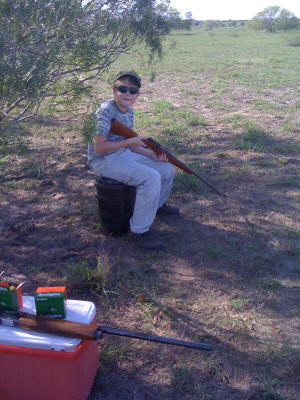 The 2 day hunt produced 2 limits of birds and a lot of good memories. Avery did great and handled the gun with great care. I was very proud of the way he handled himself.
I'll post some pictures on the recipe pages after I cook some of this up!
See more posts on the Past Posts page!
Looking for web hosting? Try mine. Great service, even better pricing.