August 22 - I knew I had the next few weeks booked, so I played a little hooky Friday morning from work. Picked up a pint of shrimp from Jane's and headed out to fish Corpus Bay wells. The water was off color from a week of steady wind but looked to be clearing a bit. First well I stopped at produced 6 or so undersized trout and one keeper flounder. I repositioned and hooked a nice sand trout and two keeper specs. A few casts later produced a small skip jack that went into the bait well. I was out of shrimp but had an idea I could complete my "Texas Triple" on the way back to the ramp. Stopped and cut up the skip jack and put two rods out on the bottom. Caught some croaker and piggies but no reds. I had on piece left so I grabbed my bait caster that had a jig head tied on it. I put the strip of skip jack on and started working it slowly across the bottom. BAM! There it was, the steady run I was hoping for. As I got him close to the boat I saw the spot on the tail. As I reached for my net, suddenly the line went slack. The fish had broke off. I watched it make a circle before heading back under. Good fight and I'm kinda glad it got away. Better luck next time.
---
Fishing the Upper Laguna with guide Captain Mike Singleterry of Topwater Guide Service produced some nice trout on a trip July the 17th. My dad and brother came down from the Houston area. We fished with live croaker, a first for me. I was amazed at how effective they where. Dad even managed to land a few trophy hard heads. They where released unharmed to terrorize other fishermen. I highly recommend Capt Mike. He was very knowledgeable, friendly, and had the finest equipment. I look forward to fishing with him again. Here are a few pictures.
---
Fishing rigs in the Corpus Christi bay with friend Mike Stephens produced nice trout and a few drum and snapper. This trip was in early July. It was a calm day, with almost no wind. It was so hot that the only way to cool off was to motor. Almost to hot to fish!
---
This was my first trip out on my new boat. Not a lot of fish but I was doing the shake down cruise.
---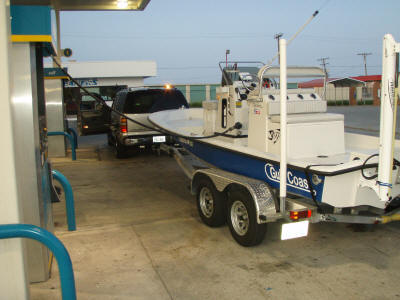 My first trip to the gas station with the new boat. 62 gallons in the boat and 32 in the Yukon!