Here are some cooking ideas I'd like to share. I will be adding a lot more content here soon!
Fish
Mexican Fish Soup
6 firm fish fillets (about 2 1/2 lbs.), cut into 1-inch pieces
2 TB olive oil
1 medium carrot, peeled and chopped or sliced into coins
1 stalk celery, sliced
1 onion, peeled and diced
12 Cups cold water or chicken stock
2 whole bay leaves
1 tsp. salt
1/4 tsp. pepper
1 tsp. crushed red pepper
1-2 tsp. garlic powder
2 tsp. dried oregano
1 Cup tomato sauce

In a large kettle, heat the olive oil over medium heat. Add the carrot, celery and onion and cook for about 3 minutes, stirring frequently. Add the water or stock, bay leaves, salt, pepper, crushed red pepper, garlic powder, oregano and tomato sauce. Stir and bring to a boil. Let boil for about 20 minutes. Reduce the heat to low, and once the stock has gone from a boil to a simmer, add the fish and simmer until the fish is cooked through, about 20 minutes. Garnish with chopped onion, cilantro, and lime wedges.

Prep. time: 15 minutes
Cooking time: 45 minutes
Serves: 8-10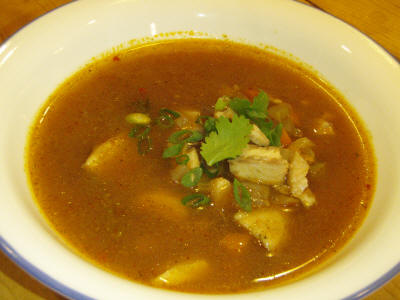 Fillets
One of my favorite methods for cooking fish is to pan sauté in a little sunflower oil over high heat. I sprinkle the fillets with a little Old Bay Blackening Seasoning and then cook for just a few minutes on each side. Super easy and quick. I use some Uncle Ben's 90 second microwave rice and some thin sliced sautéed squash.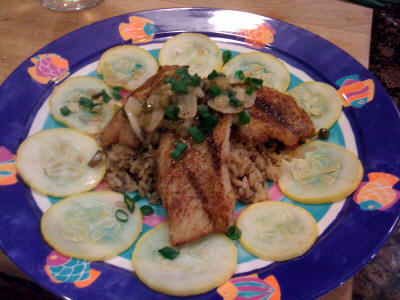 If you want a little extra, add some poor mans crab meat stuffing (recipe follows) to the fish.
Poor Man's Crab Meat (E-mail Buddy at info@buddysblends.com).
1/2 pound of fish fillets (sand trout, tilapia, drum or sheep head works best).
1 tablespoon Mrs. Dash Seasoning.
1/2 teaspoon Zatarain's Granulated Crab and Crawfish Boil Seasoning.
1/4 teaspoon Zatarains Liquid Crab Boil Seasoning
1/2 teaspoon Buddy's Blend Seasoning (www.buddysblends.com)
1/4 stick of butter
1/2 cup breadcrumbs
Directions
In a 2-quart pot melt butter on medium heat. Add seasonings, fillets and stir until the fillets break up into individual flakes. Add enough breadcrumbs to absorb the butter. Use this mixture to stuff mushrooms or for stuffed red snapper, trout, or flounder. Add a little mayonnaise and form into patties for sandwiches. Or form into a loaf and bake.
Gumbo
I love a good bowl of gumbo. Here is how I like to cook it. I don't really worry to much about exact proportions as it is more of a method than anything else. I use about 2 pounds of meat (shrimp, sausage, crab, duck, chicken, or whatever) in a pot this size.
Peel your shrimps and add to a pot with about 8 cups water, and some salt, pepper, Buddy's Blend or Creole seasoning, and some garlic. Bring this to a simmer and reduce by half. Skim the foam off as it develops. Strain and reserve the liquid. This is shrimp stock.
To make the roux, mix equal parts flour and oil (about 1 cup each) and stir over medium heat. Keep at it until it turns dark brown, almost but not quit burned. You need to drink about 2 beers during this phase. Don't walk away.
Here are the veggies I use for this size pot. Chop everything up and add it back to the hot roux.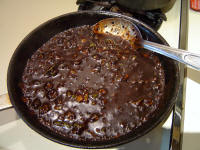 Sauté the veggies in the roux for about ten minutes. I then pour all this into the empty stock pot and bring it up to temperature.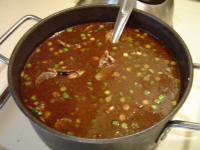 Add the shrimp stock, a cup of white wine, and another 3 cups water (more or less). Now is the time to add your seasonings. Use some salt, pepper, Buddy's Blend, a couple of bay leafs, Worchester, and some cayenne for heat. This needs to simmer for about 2 hours. If you have crab bodies, go ahead and add them now. Raw meats like chicken or duck need to cook about an hour. Shrimp need no more than 10 or 15 minutes, and lump crab needs to be added right before service.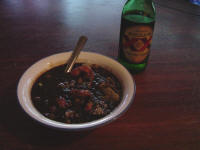 Serve with a little rice, some filet', and a cold beer.